Late summer, and we are still using our BBQ
After we have demolished the main course, we start looking for something sweet to eat…
It's marshmallow and biscuit time!
 Spotlight on our lovely Retailers
This month we would like to present:
New House Farm Shop
The shop sells locally sourced products including fresh fruit and veg, fresh bread, meat, wine, cider and ale, cheese/deli, store cupboard essentials, ready meals, ice cream and local crafts.
The lovely tearoom has indoor and outdoor seating. 
Customers can choose from locally baked cakes and cupcakes, sandwiches, breakfasts and Ploughman's and of course, a range of teas coffees, chocolate and soft drinks.

And can enjoy wonderful views of the surrounding countryside!
They also have pick your own strawberries!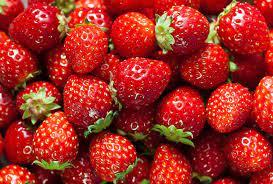 Old Recipe Corner
Salmagundi
What a wonderful name for a dish!
It's actually a seventeenth-century name for an English mixed salad, but boy, what a salad!
In some recipes, meat, eggs and pickled fish are the main ingredients, with little in the way of what we would consider to be salad items.
Lesley remembers seeing one of the Two Fat Ladies preparing it on their cookery programme many years ago.
Some salmagundi recipes seem more complicated than others
A relatively simple version
A New System of Domestic Cookery' 
(Rundell 1807)
Small side-dishes for supper etc.

Boil eggs hard, cut them in half, take out the yolks, set the whites on a dish, and fill with the following several ingredients; or put a saucer up-side-down on a plate, and place them in quarters round: in either case as a salmagundi. Chopped veal, yolk of egg, beetroot, anchovy, apple, onion, ham, and parsley. A very small bit of the white of the egg must be cut off, to make it stand on the dish as a cup.
An earlier (note the spelling) version from John Farley 
(The London Art of Cookery 1784)