Block gingerbread (gingerbread made using wooden moulds) was once on sale all over Britain – it was a very popular Sussex treat and could always be found at the various fairs held throughout the county.
The gingerbread was made with dark treacle and printed with a variety of different designs.
Our own gingerbread captures these rich, long lost flavours by using butter, dark treacle and raw cane sugar
Lesley owns three antique gingerbread moulds:
The carved wooden moulds are all double-sided
The plainest one with the simple oblong design was for penny gingerbreads (larger mould) and halfpenny gingerbreads (smaller mould).
Frederick Vine, 1898, in his book for bakers, listed thirteen different recipes for gingerbread, which indicates how popular it was during the 19th century.
He also gave instructions on how to use gingerbread moulds.
Many fairs were held throughout the year in the market town of Horsham in West Sussex, and during the 19th century, the gingerbread industry in the town was at its height, with local gingerbread makers using their own carved wooden moulds to produce a variety of different sizes and shapes of gingerbread.
The popularity of gingerbread appears to have declined due to the decrease in the frequency of fairs, and the increased range of different cakes and fancies on sale by the end of Queen Victoria's reign.
The surviving finely carved wooden moulds from the many makers of Horsham's once-thriving gingerbread industry can be found on permanent display at the Horsham Museum. The museum is currently closed, but will re-open during the summer of 2021.
Arundel Museum (https://arundelmuseum.org) and Brighton Museum (https://brightonmuseums.org.uk) also have collections of gingerbread moulds used by local bakers.
In honour of National Biscuit Day on May 29, the team at Horsham Museum and Art Gallery have shared the history of Horsham gingerbread on their museum blog – including the present-day story of Horsham Gingerbread Bakehouse, of course!
We are delighted to be featured in this article, click the link below to have a read.
A Spotlight on Our Lovely Retailers
This month we would like to present:
Eggs to Apples
London Rd, Hurst Green, Etchingham TN19 7QP
Eggs to Apples is an award-winning farm shop on the border of East Sussex and Kent. A family run business, Eggs to Apples opened its door's in December 2014 by Susannah and Craig Hewett, on the former site of a farm shop run by Susannah's parents in the 1970s and 80s.
Describing itself as a marketplace for local growers, makers and producers, representing over 50 local suppliers at any one time, but changing with the seasons.
As well as working hard to offer customers the best products from the rest of the world, including premium brands that our customer base may be familiar with from places like Borough Market, or Ottolenghi cookbooks, as well as the everyday essentials to feed the family.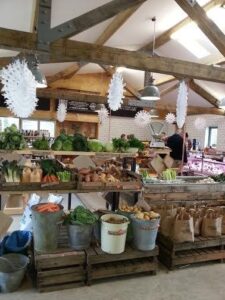 Their cheese counter represents five local cheese makers, as well as the best of the regional and continental cheeses.
The deli counter sells locally baked pastries, charcuterie and salads, perfect for stay at home lunches and picnics.
The Fresh Fish Shop in West Sussex supplies them with a range of fresh and smoked fish, and they are very proud of their relationship with Garlic Wood Farm in West Sussex, an ethical butchery providing them with free-range pork, chicken, and grass-fed beef.
The Sussex Kitchen provides them with daily artisan bread and Hinxden Dairy, their milk and cream. As well as three local bakers regularly delivering cakes, traybakes, cookies & brownies. Add to all of this a well-stocked pantry of whole foods, baking goods, condiments and, of course, delicious products from Horsham Gingerbread Bakehouse!
They have an unrivalled view from the terrace over the Weald Area of Outstanding Natural Beauty, and a well-curated range of plants for sale, as well as cut flowers all year round, specialising in seasonal English flowers throughout the summer.
Their garden café serves light lunches, outstanding coffee and locally baked cakes and pastries. All of which is available to take away too.
When restrictions allow, they run regular events which change with the seasons. From running seasonal lifestyle workshops such as floristry and gut health workshops, to pop up restaurants that often sell out well in advance. Summer brings yoga in the garden as well as makers fairs and free tastings from their suppliers.
Open 7 days a week for shopping in store, they also offer a click & collect service, contactless collections, and local delivery. All of which can be ordered by email, or by using their ever-expanding online shop.
There are so many unusual recipes and ingredients in Lesley's collection of old cookery books and manuscripts…
Unfamiliar Ingredients:
Verjuice – juice of unripe grapes, crab-apples or other sour fruit
Skirret – a root vegetable, rather like a parsnip
Rosin – pine resin, used as a flavouring
Collops – thin steaks
Codlings – a variety of small green apples used for cooking
Clary – a herb, a member of the sage family
Barberries – edible berries, sharp acid flavour.
Unusual Recipes / Culinary Terms
Pickled Eldershoots  ('imitation bamboo')
Rook Pie
Sparrow Dumplin
Hogs Ears Forced
Yam Pudding
To Force Cocks Combs
Brain Cakes
Sea-cat with Brown Sauce
To Broil Cod's Sounds Whole (the cod's air bladders)
A Tansy/ Tansey Pudding – pudding flavoured with the herb tansy
Cullis – Highly flavoured meat concentrates
Ragoo – a main dish stew – vegetable or meat
Beest Custards – the first few milkings from a newly calved cow are called "beestings," or beest milk. More nutritious than normal milk, so good for invalids. The custard also sets really well.